Most marketing and advertising blogs focus on the campaign's creative techniques, messaging, and content strategies. Content is king, and it's the method for delivering your message and a degree of increasing customer engagement. Creativity is not about that.
A creative CTA uses a unique approach to trigger an action based on a specific human emotion. The most important part of a successful marketing campaign is not the product but what kind of ad will reach specific people in their particular state of mind.
Want to boost conversions and inspire your customers to take action? Of course you do! And the good news is, you don't have to be a genius to do it. According to the experts at Hubspot, all you have to do is make sure you're using landing pages - they're basically built for this kind of thing. And don't just take our word for it - they've got the stats to back it up with an average conversion rate of a whopping 23%. So why not try spicing up your event landing page with a video from last year's shindig? Or giving a sneak peek of that free resource you're offering? Trust us, it'll be like taking candy from a baby.
Want to boost engagement with your audience? Tired of the same old CTAs that everyone uses? Think outside the box with creative CTAs that will make your audience take notice.
After all this talk about CTAs, you must wonder what one is. Well, it's not a bear, an alien, or even the heavily tattooed guy from the late 90s who used to run up to people on the street and scream "Sucka!" at them.
Why CTAs are a Big Deal  
A well-crafted call to action can serve as the point of entry for readers to your website or blog. It can also help you build trust with potential customers by demonstrating that you know what you're talking about and helping them understand the benefits of working with you.
CTAs are essential for any marketing strategy because they help increase engagement with your audience by directing them toward their next step.
If you have compelling content that inspires people but doesn't include a CTA at the end, you're losing out on a huge opportunity. If you have great content but don't have CTAs on any of your pages (like home pages), people might not even find it!
The best way to get results from your marketing efforts is by setting up clear calls to action for your customers at every point of contact. You want them to take some action that moves them closer to achieving the goal you've set for them. This can be signing up for a newsletter, making a purchase, or clicking through to another site.
Inspire Your Customers and Increase Customer Engagement with CTA Gifts
In the world of digital marketing, CTAs are everywhere. They're the buttons, links, and calls to action you see on websites, blogs, social media posts, and other online content. They encourage viewers to click through and engage with your brand in some way — whether it's making a purchase or signing up for a free trial.
The best CTA gifts don't look like advertisements or sales pitches. They feel more like personalized gifts than promotional items. That makes them more likely to be shared by recipients on social media or passed along as gifts.
With a CTA gift, you give your target audience something they want, and they complete a simple task in exchange. You might ask them to sign up for your email list, follow you on social media, or even share the gift with their friends. This is a great way to build an engaged audience around your brand.
A great way to make a good impression is to give a gift. It's the easiest way to stand out and show that you care about your customers.
A well-crafted CTA gift will inspire and delight your target audience, helping you build brand loyalty and increase sales.
A good CTA gift can do all this because it captures their attention, makes them feel valued, and encourages them to take action.
Here are just a few types of CTA gifts that can help you reach more people with your brand message:
Something they can use

Something they need

Something they want

Something that solves a problem or improves their life in some way

Something that shows you care about them (and is not just about making money)
Get Creative with Your CTA Gifting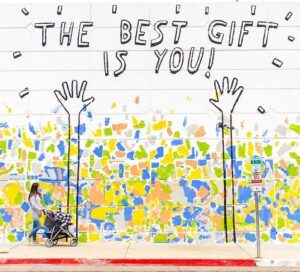 The best part about CTA gifts is that they can be used to get your target audience to take action.
Here's how you can use these gifts to inspire your customers:
Make it personal. For instance, if fashion/decorating trends are popular with your audience, use this as inspiration for your CTA gift. 
Be creative. Or, if your message is about how "essential" they are, make sure the gift includes some favorite aromatherapy scents. These are a few excellent ways to gift your target audience through gift marketing. Check out some of the other ideas below, or connect with Outgage to design something uniquely specific for your next big thing. 
Give them away as a reward. If you have an app or website offering incentives or rewards, consider giving away gift cards as prizes. This will encourage people to engage with your brand more often, which increases the likelihood that they'll purchase at some point in the future.
Gift them as incentives for referrals. A great way to increase customer engagement is rewarding customers who refer their friends and family to your company's products or services.
This can be done through a referral program where customers earn points each time someone signs up for something through their recommendation. Alternatively, you could offer free products or services if someone refers enough people to your business over time.
Wrap Up - Want to Increase Customer Engagement?
To put it simply, everyone loves free stuff. If you're designing a campaign of any kind, consider adding a gift as an incentive to get people to respond. This can be in the form of useful accessories, like pens and USB drives, or it can be a treat for the tastebuds, like chocolate and wine.
Your imagination is the only limit to the kinds of gifts you can offer. Make your CTA count by giving people something they want—and then use that shared experience with your brand name to deepen their loyalty towards your company and its offerings.
If you want to make your brand known, let Outgage help you with affordable marketing tools your business can use to become a noticeable favorite. Our knowledgeable staff is eager to assist you in any way.